Winter Elopement on Mount Rainier National Park
Years from now, when you sit down by the fire at camp or during the holidays in your living room and tell your kids and grandkids about your wedding day, what would you be telling them? What do you remember the most? How did your husband look that day? How did your wife look that day? How would you describe that feeling when you see her for the first time?
Jennifer and Dan found me through Erika from The Greatest Adventure Weddings. They inquired me about a month before elopement day. The minute I read their email, I knew for sure I wanted to be a part of their special day. I moved my travel dates around so I could be there with them and for them.
Jennifer and Dan flew into Seattle the weekend before their actual elopement day but I could not meet them since I was in Joshua Tree for an engagement session (A blog post for that session will be up soon). I usually like to meet my couples in advance so they can be comfortable with me and also for us to get to know one another. Long story short, I did not get to meet them until the very day off.
Erika (the event planner), Ann (the hair and make-up artist), and I met the morning of and drove to their cabin. We picked up some snowshoes on the way because we knew that snowshoeing was such a must for epic portrait photos.
It was truly magical the minute we arrived at their cabin. The road was covered in snow and deers were wandering around and occasionally looked back at us. The minute I saw their cabin, I immediately fell in love and told myself I so am going to go back here for a quick mini getaway.
Jennifer and Dan welcomed us with warm hugs. We sat down and talked while Jennifer was getting hair and makeup done. We talked about life, about their adventures, their stories, and how they met. Throughout the whole conversation, Dan could not stop himself from looking over at Jennifer. He was so ready to say "I do" haha.
I walked around to scout for locations. I stumbled upon an empty greenhouse with string lights and I knew for sure that they would need to have their first look here. Truly, it was modified first look since Dan kept turning back to sneak a look at his bride-to-be. I wish you could have been there to witness this moment. Erika and I had to constantly tell him to stop turning back but he was so so so eager we could not really stop him.
Their first look was full of laughters and tears. Tears of joy, tears of happiness, tears of knowing that this is the beginning of the rest of their life.
If you ask me now, I would lie. I would say I did not cry but heck yes I did. We all did.
We then started entering Mount Rainier National Park and drove towards Paradise. We stopped by the visitor center to have their ceremony on the bridge. We then attempted to drive all the way up for portrait photos but Mt. Rainier now felt like a snow-globe and we were all inside of it. We drove till we couldn't drive anymore because of the blizzard. The whole team started snow-shoeing and explored the area.
I am so grateful for Jennifer and Dan for believing in my vision and for being such troopers in the snow. Special thanks to Erika for coordinating such a perfect elopement. Special thanks to my husband (Rain and Pines) for assisting us throughout the whole day. Thank you to the awesome hair and make up artist Anne Timms for always being ready for touch-ups, even in the snow. And last but not least, thank you to Carlee with Rusted Vase Floral Co for all the beautiful flowers.
Before I show you guys all the beautiful moments we captured together, heres' what Jennifer and Dan wrote for me that keeps my heart warm during this past winter:
"Dearest Henry,
Jeniffer and I are absolutely enamored of your photographic work!
Our experience was made truly most memorable by the individuals with whom it was shared. You and Viet were an integral part of that day which makes your photography all the more meaningful to us since we came to know the beauty in your hearts. We are so grateful that you were able to capture our raw and obvious love for one another in a way that is portrayed effortlessly to anyone who peruses the images.
We revisit our time on Mount Rainier often in conversation, and now your artistry brings the memory to life.
We're presently sitting in front of a roaring fire: I'm writing this to you, and Jeniffer is writing a review for Erika. We're both so pleased with everyone's efforts to make our elopement a beautiful memory we'll carry for the rest of our lives. I can't count the number of friends I've showed and sent our sneak peaks to in the past 3 weeks and five days (hah! whose's counting!). We get so many positive comments, like, "that ought to be in a magazine," or "that's stunning!"

Love,

Jeniffer and Dan"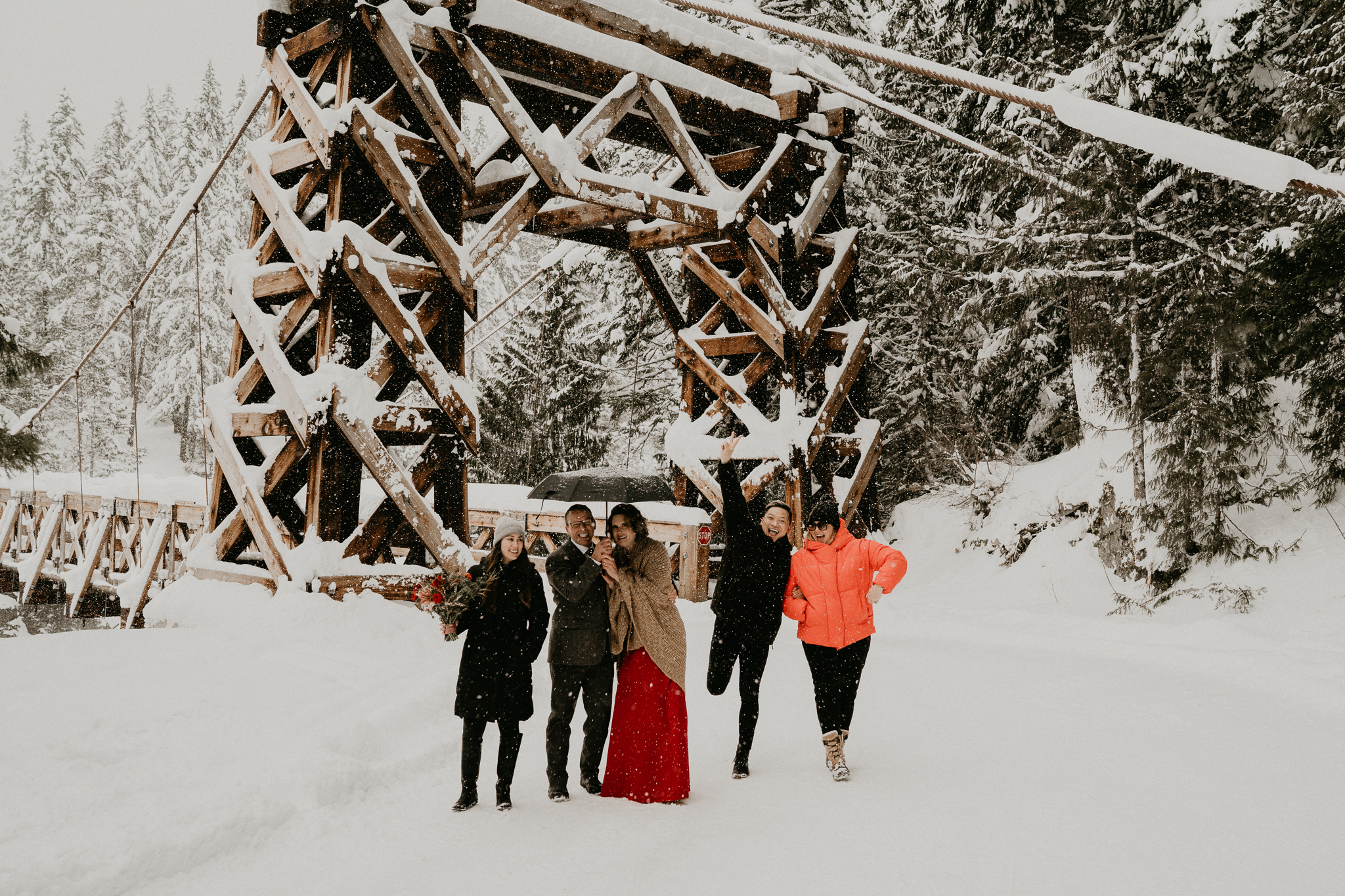 ...
Henry Tieu Photography is based out of Seattle, Washington that focus on intimate weddings, couples, engagements, and elopements. We often travel to Oregon, Colorado, Utah, Arizona, California, and Hawaii. We focus on the intimate and raw moments that are unique to each couple.